UK Manufacturer of Low Cost Electronic Modules
Silvertel specialises in the design and supply of low cost electronic modules to an extensive global customer base that includes blue chip names such as Samsung and Panasonic. Our POE, Telecoms, Battery charger and Wireless Power module products are sold to thousands of customers through a worldwide network of distributors and representatives. All this is backed up by our renowned first class technical and application support. Silvertel has pioneered many innovations in POE to include such landmarks as the smallest SMT and POE+ modules in the world, as well as the highest power POE modules available. All modules are optimised to provide minimised footprints and package size. Ease of use with minimal external components required is an additional key Silvertel advantage. For further details on each range, click on an image below.
PoE-enabled LED Driver for Smart Lighting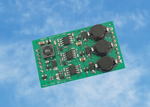 Now the IEEE802.3bt specification has been released, PoE has become more suitable for smart lighting. This new standard has added more power, up to 99W, but has also allowed for a lower standby connection. Silvertel is releasing a simple to use, but comprehensive solution for a PoE LED driver module. The Ag210 is a small module that provides the required IEEE802.3bt PoE signature, generates and regulates the constant current to drive standard LED units. This current output is configurable from 350mA to 1A. The module has an I2C bus input to control the flicker-free dimming output. This module does not require an electrolytic capacitor ensuring that the reliability and life expectancy is as high as the LED.
For more information click here.