UK Manufacturer of Low Cost Electronic Modules
Silvertel specialises in the design and supply of low cost electronic modules to an extensive global customer base that includes blue chip names such as Samsung and Panasonic. Our POE, Telecoms, Battery charger and Wireless Power module products are sold to thousands of customers through a worldwide network of distributors and representatives. All this is backed up by our renowned first class technical and application support. Silvertel has pioneered many innovations in POE to include such landmarks as the smallest SMT and POE+ modules in the world, as well as the highest power POE modules available. All modules are optimised to provide minimised footprints and package size. Ease of use with minimal external components required is an additional key Silvertel advantage. For further details on each range, click on an image below.
Miniature PoE power solution Ideal for IoT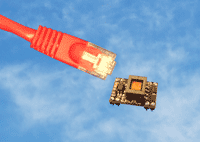 With IoT devices becoming more prevalent there is an increase in connectivity and fog computing. Ag9900 module provides a complete, compact and cost effective solution for adding PoE power to Single Board Computers (SBC), IoT gateways, intelligent home control panels, smart lighting, energy and water monitoring. The Ag9900 provides the IEE802.3 signature, 1.5KV isolation with on board isolation transformer and a DC-DC conversion to power the device. Variants are available with different output voltages, footprints, temperature ranges and height. Since its release the Ag9900 has become a favourite for designers due to its compact design and ease of use.