Ag5500 - 60W PoE Ultra PD
Product info

Documents

Features

Evaluation board
Ag5500
No recomended for new designs. We recommended a new lower cost alternative which is the Ag5510


The Ag5500 is a PoE Ultra module that can deliver up to 60 Watts of output power. This is ideal for applications such as WiMAX access points, door access, PTZ cameras and remote computer terminals. The input Signature complies with the IEEE802.3af specifications and it is designed to meet the safety isolation requirements of IEEE802.3at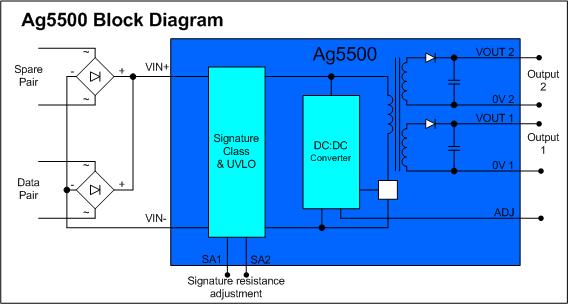 Key Features
| | |
| --- | --- |
| | IEEE802.3af compliant signature |
| | Adjustable output voltage (10.5-38V) |
| Overload, thermal and short-circuit protection | Minimal (low cost) externalcomponents required |

Ag5500 Datasheet

Ag5500 Shortform
Part Number
Output Voltage
Output Power
* Ag5500
12V or 24V
60 Watts
* Ag5500 is not recommended for new designs - use Ag5510. Ag5500 modules are on a 1,000 piece MOQ.
Ag5500 Features
60 Watt POE PD Module
IEEE802.3af compliant signature
Small size 57.9mmx61mm 1/2 brick
Power received on all 4 pairs
Input voltage range 37V to 57V
Adjustable output voltage (10.5-38V)
Overload, thermal and short-circuit protection
1500V isolation (input to output)
87% efficient DC/DC converter
Minimal (low cost) external components required
Simple integration
AG5500 Evaluation Board
EvalAg5500 is intended for testing and evaluation of the Ag5500 POE Ultra PD module only. This evaluation board will work with PoE Ultra and Power Sourcing Equipment (PSE) that supplies power over the spare pair and or data pairs, e.g. Phihong POE60U. It is fitted with our PoE Ultra 60W module the Ag5500 and compatible with Ag6100-HP PSE modules. Please use the links provided to order boards or download the user manual.