Ag1170 +5V or +3.3V Low Power Ringing SLIC.
The Ag1170 is a single Subscriber Line Interface Circuit (SLIC) in a 14 pin single in line (SIL) or 21 pin dual
in line (DIL) format. The combination of features and packaging offers extremely efficient use of board area,
saving significant system size and cost, minimising time to market for Telephony Systems developers.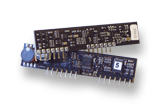 Silver Telecom has designed and developed a device that can operate either from a +5V or +3.3V supply.
The Ag1170 has integral DC-DC converter and ringing generation thus providing all the line powering requirements
from a single supply. The SLIC requires a minimum of external components making the telephone interface very
easy to design and improving time to market for equipment developers. It is a complete line interface in a single
package, with emphasis on size, low cost and ease of use. It is the world's smallest SLIC plus DC/DC solution.
The Ag1170 has been designed to work with loop lengths of up to 6.0km. Its performance to
regulatory standards allows use in public and private network applications.
The system interface has been designed for connection to all popular codecs for both the audio and signaling connections.
The Ag1170 is ideal for low line count and high line count, short loop length applications, such as ISDN Terminal
Adaptors, Internet Telephony (VoIP), Computer Telephony Integration (CTI), Wireless Local Loops (WLL), Fixed Cellular
Terminals (FCT) and Small Office Home Office (SOHO).
Production volumes of the Ag1170 are now available for despatch in SIL and DIL packages.
For further information, please contact Silver Telecom or their local representative.
About Silver Telecom
Silver Telecom manufactures, designs and develops Power over Ethernet, battery charger and telephone interface circuits for
developers of the latest electronics, networking and telecommunications equipment.