Ag5800 - IEEE802.3bt 4-Pair PD
Product Info
Docs
Features
Evaluation board
Ag5800
The Ag5800 is IEEE802.3bt Draft compliant PD module is designed for high power POE applications. Depending on cable length it can output up to 85W when supplied from an IEEE802.3bt PSE. This total solution includes 1.5kV of isolation, PoE signature and an integral DC to DC converter for 12 or 24V output.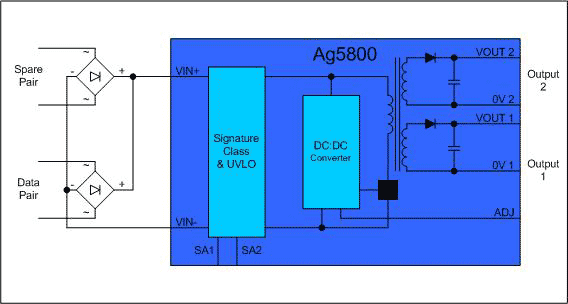 Ag5800 Datasheet

Ag5800 Shortform
| | |
| --- | --- |
| IEEE802.3bt (Draft) compliant module | Small size – 70mm(L) x 35mm(W) x 17mm(H) |
| Cost Optimised 85W POE PD | Very low power standby mode |
| Overload, thermal and short-circuit protection | |
Part Number
Output Voltage
Output Power
Ag5800
12V or 24V
85 Watts
Ag5800
Cost optimised 85W POE PD
IEEE802.3bt compliant
Power received on all 4 pairs
Compact DIL package - 70mm(L) x 35mm(W) x 17mm(H)
Overload, thermal & short-circuit protection
Very low power standby mode
Wide input voltage range (37-57V)
12V or 24 V output
1500V isolation (input to output)
89% efficient including integral DC/DC converter
Minimal (low cost) external components required
Simple integration
Ag5800 Evaluation Board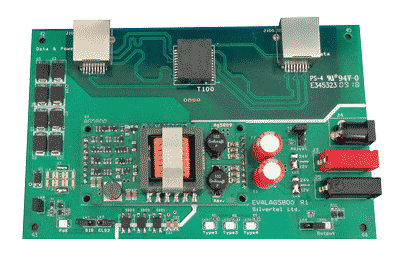 The EvalAg5800 is intended for testing and evaluation of the performance of the Ag5800 IEEE802.3bt 4-Pair high power POE PD module. This evaluation board will work with suitable IEEE802.3bt draft PoE / PoH Power Sourcing equipment (PSE) that are capable of providing power over the spare pair and the data pair, such as the Ag6800 high power PoE PD module. Please use the links provided to buy boards or download the user manual.