Silvertel goes Wireless
Announcing the release of the Ag300 Series Wireless Power Modules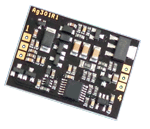 Silvertel continues with its strong tradition of innovation, by announcing the release of its new low cost Ag300 Series modules for Wireless Power transfer applications. Silvertel's new range of modules provide a fast, cost effective means of implementing wireless power transfer and related applications such as wireless charging of mobile devices.
The first release includes a matched pair of Transmit power (Ag311) and Receive power (Ag301) modules compatible with the Qi standard for Wireless Charging applications. These Qi compatible wireless power modules are ideally suited for designing wireless charging products for mobile phones, tablets and other portable devices, as well as for direct wireless power transfer to sealed units, for example in external marine LED lighting applications.
These new modules have a minimal footprint, extremely low profile, and require the addition of just a single transmit or receive coil. This speeds up design time and simplifies the entire design process.
PCB space required is minimal which is essential in all modern electronic design where everything needs to be compact.


Qi compatible wireless power receiver module - Ag301 Datasheet

Qi compatible wireless power transmitter module - Ag311 Datasheet

Contact Details
Silvertel
1 Imperial Courtyard,
Imperial Park,
Newport. NP10 8UL
United Kingdom
Tel: +44 1633 817199
Fax: +44 1633 815415