Ag201 - 24W Single channel Low Voltage DC LED Driver
Product Info

Features

Documents

Evaluation Board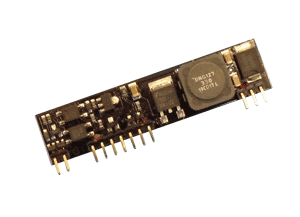 The Ag201 is a single channel, 24W maximum output power LED driver module. Designed for use in low voltage DC power and lighting distribution applications, it will accept any DC input voltage between 12V and 57V, so staying below the SELV limits. Its constant output current values can be programmed via a simple external resisitor from one of 4 preset values. Its output string voltage range is from 2V up to 34V, providing a huge input to output working range for maximum flexibility. Control can be via a powerful and convenient DALI interface, or a simple analogue 0-10V dimming input.
Ag201 Key Features
| | |
| --- | --- |
| From 12V to 57V DC input range | |
| | From 2V to 34V output string voltage |
| Programmable output currents - 350mA, 500mA, 700mA & 1A | |
Ag201 Documentation
Buy or sample Ag201

| | | | | |
| --- | --- | --- | --- | --- |
| Part Number | Output Voltage | Output Power (Max) | | |
| Ag201 | 2V to 34V | 24 Watts | | |
Features
Low voltage DC input LED driver module
Wide input supply 12V - 57VDC
Maximum power 24W
Ouput voltage range 2V up to 34V with buck-boost topology
Programmable constant current outputs: 350mA, 500mA, 700mA or 1A
Small SIL footprint- 61mm(L) x 12.5(W) x14mm(H)
DALI compliant including 3.75kV isolation
DALI control or analogue 0.5V to 10V dimming
Over and under voltage input lockout
Open circuit output clamping protection
High efficiency (~89%)
No output capacitor required
Simple integration
Ag201 Data Sheet

Ag201 Datasheet

Ag201 Shortform

Ag201 Shortform
Ag201 3D Step Files

Ag201 3D Stepfiles
Ag201 EVAL Board User Manual

Ag201 Eval Board User Manual - coming soon
Ag201 Evaluation Board
Order Code: EVALAg201
The Ag201 evaluation board is designed for testing and demonstrating the capabilities of the Ag201 Low Voltage DC LED driver module. The Evaluation board allows for the simple setting of the module output current using links. Light level control options include both DALI inputs as well as an integrated potentiometer for simple analogue dimming control.