UK Manufacturer of Low Cost Electronic Modules
Silvertel specialises in the design and supply of low cost electronic modules to an extensive global customer base that includes blue chip names such as Samsung and Panasonic. Our POE, Telecoms, Battery charger and Wireless Power module products are sold to thousands of customers through a worldwide network of distributors and representatives. All this is backed up by our renowned first class technical and application support. Silvertel has pioneered many innovations in POE to include such landmarks as the smallest SMT and POE+ modules in the world, as well as the highest power POE modules available. All modules are optimised to provide minimised footprints and package size. Ease of use with minimal external components required is an additional key Silvertel advantage. For further details on each range, click on an image below.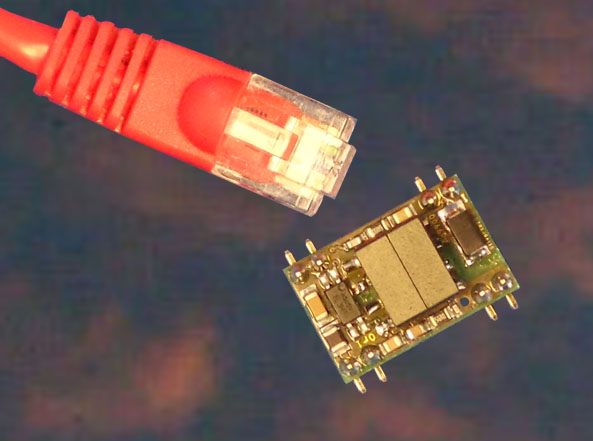 Ag9924 and Ag5324 are the cutting edge in industrial temperature POE and ultra-miniaturisation from Silvertel. Ag9900 pushes back the boundaries for POE miniaturisation yet again at just 21.2 x 13.9mm in footprint area, and only 13.3mm high, Ag9900M is truly the smallest POE module in the world. Despite its' tiny footprint, Ag9924MT still packs a maximum 12W at 85°C of output power through improved efficiencies in design. Read more about Ag9924M or Ag9900M here. Meanwhile Ag5324 is a 24V output version of the successful POE+ Ag5300 module, capable of delivering 24W of power at 85°C. Samples are available, contact your local distributor for details. Ag5324, Ag9924M, Ag9912M, Ag9905M and Ag9903M are all released.
Ag9900

- Worlds Smallest isolated surface mount IEEE802.3af PoE PD
Ag9900 Product Info
Ag9900 Features
Ag9900 Documents
Ag9900 Evaluation Boards
Ag9900 Series - Ultra-miniature POE
Ag9900 is now the smallest PoE module in the world, superseding the Ag9800. It is designed such that adding just two diode bridges and an electrolytic capacitor to this truly tiny module is enough to enable PoE functionality in a product. Ag9900 is fully compliant to the IEEE 802.3af PoE standard. It provides a POE signature, classification, isolation and DC to DC conversion options for 12V, 5V, 24V or 3.3V, while taking up minimal PCB space. It is ideal for space constrained PoE applications such as IP phones, wall mount appliances, IP cameras, thermostats, smoke detectors and room sensors, and is perfect for a whole range of new IoT and building automation sensors and devices.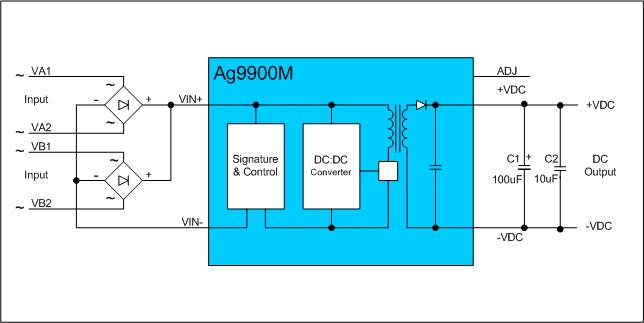 Key Features & documents
| | |
| --- | --- |
| Ultra-miniature package size and profile | Cost optimised IEEE802.3af POE |
| Overload and short-circuit protection | 1500V DC impulse test isolation (input to output) |
| | Integrated Thermal Protection option |
Ag9900M - Standard Product
Part Number

Output Voltage
Output Power
Ag9924M
24V
12 Watts
Ag9912M
12V
12 Watts
Ag9905M
5V
9 Watts
Ag9903M
3V
6 Watts
Ag9900MT (Industrial Temperature Version - with Thermal Protection)
Part Number

Output Voltage
Output Power
Ag9924MT
24V
12 Watts
Ag9912MT
12V
12 Watts
Ag9905MT
5V
9 Watts
Ag9903MT
3V
6 Watts
Ag9900 Features
Smallest ever POE PD package size:

SMT - 21.2mm(L)x14mm(W)x13.35mm(H)

Cost optimised - very low cost
IEEE802.3af POE
Overload and short-circuit protection
Standard Temp range operation -40 degrees to +70 degrees Celcius
Over temperature protection option (MT) available for Industrial
temperature range (-40 to +85 Celcius) operation
Wide input voltage range - 36 to 57V
Integral DC/DC converter
Power output - 12W at 24V and 12V, 9W at 5V and 6W at 3.3V.
Ag9924MT Up to 12W at 85 degrees Celcius
Ag9912MT Derated for up to 9W at 85 degrees Celcius
Ag9905MT Derated for up to 6W at 85 degrees Celcius
Ag9903MT Derated for up to 4.5W at 85 degrees Celcius
1500V DC impulse test isolation (input to output)
Simple integration
Ag9900 Evaluation Board
These are a range of evaluation boards for testing and evaluation of Silvertels ultra-miniature IEEE802.3af Ag9900M SMT package POE PD modules. It is designed to work with Power Sourcing Equipment (PSE) that supplies power over either the spare pair or the data pair. It is fully compatible with the Ag6100 (and complementary Ag7100) and Ag6400 PSE modules. It can be ordered as one of eight options, dependent on the module/output voltage variant fitted, from either Ag9924M, Ag9912M, Ag9905M or Ag9903M or with additional over temperature protection fitted, with the MT suffix. Please click on the order codes above, or use the Buy Samples button provided to order boards. The User Manual can also be downloaded below.